7-Day West Coast Adventure, Kayaking Vancouver Island, BC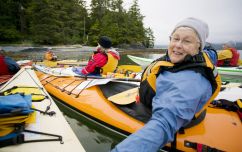 7-Day West Coast Adventure
Each day offers unforgettable adventures with ample time to explore the islets, inlets, and old growth rainforest of remote Kyuquot Sound, while enjoying the unexpected camping luxuries of our fully-equipped coastal retreat.
Book Now
A scenic coastal cruise, 5+ days of exploring by sea kayak or on foot, and a spectacular float plane ride make this the quintessential Vancouver Island adventure tour, suitable for all ages, interests, and paddling experience. You'll leave feeling rejuvenated and satiated from kayaking on the west coast of Canada.
Overview
As with our 4 or 5-Day packages, this 7-Day Vancouver Island adventure kayaking experience features daily activities that are tailored to the mix of guests' interests, abilities, and the opportunities presented by the tides, weather, and wildlife. Throughout the week, you will appreciate the unexpected luxuries of our Wilderness Retreat base camp that quickly feels like a second home.
With this longer trip, we have more opportunity for a progression and variety of activities that build on the experiences of each day. Some of the highlight destinations include:
an islet viewpoint for studying one of the largest sea otter rafts on the coast - 30 to 70 male otters resting together on their backs;
being enveloped in the serenity of kayaking into the Clanninick Creek estuary and walking through the salmon forest trail - visiting the foraging domain of Vancouver Island's Black Bears;
navigating the open ocean swells to view a Stellar Sea Lion haul out and walk the enchanted Sitka Spruce forests and mudstone shores of Lookout Island - a premiere location to view sea otters, whale watch, or search for beachcombing treasures like Japanese glass balls (fishing floats);
kayaking through the serene current swept channels that feed tranquil McKay Cove, then visiting the remote village of Kyuquot, including a walk on the picturesque boardwalk in search of ice cream, local gifts, or deluxe coffee from Java the Hut;
going back in time on Amos Island with fossilized bivalves and dramatic examples of tectonic activity with layered, tilted, uplifted, and folded sedimentary formations;
more exposed sea kayaking that traverses rugged surf-pounded coastline in search of caves and sea arches along Spring Island and Vancouver Island shores, many of which can be paddled in/through during suitable sea conditions - coastal kayak exploration at its finest; and of course...
...treasure hunting on Pirates Island - curiosities for all ages!
Depending on group size and interests, weather, and available guides, we often have the option to offer a mix each day of a shorter kayaking distances for those wanting more personal time to explore or relax on shore, or longer, more challenging kayaking outings that will ensure that all dinner calories are earned before a good night's sleep!