Vancouver Island Sea Kayaking Tours - Your Wilderness Retreat in Canada
Join us on Spring Island every June to September for customized professionally guided sea kayak tours with old-growth forest walks, shoreline hikes, Aboriginal cultural experiences, and diverse wildlife. Savour a flexible, fun, and refreshing vacation at a unique wilderness retreat in Canada!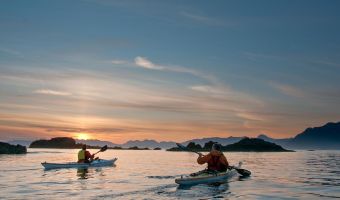 Truly get away -
kayaking in Kyuquot
, off the beaten path! Experience the joy, wonder, and diversity of a remote Vancouver Island adventure destination rich in marine biology and Aboriginal culture, where the coast meets the mountains.
Since 1972 we've specialized in engaging authentic experiences that connect people in healthy ways with the west coast of Canada, with over 25 years of guided sea kayaking trips in Kyuquot's spectacular BC coastal ecosystem, home of the curious sea otter.
...the best paddling expedition and base camp experts that I have travelled with - comforting and rewarding. You will not have a more expert and knowledgeable team that know and frequent the local waters, people and environment.
Kevin B., Victoria, BC
Connect. Experience. Refresh.

Safety, comfort, and enjoyment are top priorities.

Eat, play, sleep, and be well!

Completely unplug.


Our remote ocean kayaking adventures begin with convenient transportation from the Comox Valley or Campbell River, both easily accessed by ground or air. Our kayaking tours are on the northwest coast of Vancouver Island, away from the summer crowds in Tofino, Clayoquot Sound, the Broken Islands, and Johnstone Strait.
Give yourself space and freedom to relax and absorb your surroundings with the unmatched comforts of a
Base Camp Kayaking Adventure
or a more out-there
Multi-day Kayaking Expedition
. If kayaking isn't your full cup of tea or only a partial interest, arrange for a more customized
Wilderness Retreat
.
Featured Sea Kayaking Vacation Packages
You all create a magical experience for sharing this place of natural beauty with nourishing company and delicious food.
Odete P., Vancouver, BC
Read
what guests say
about their west coast adventures with us!
Base Camp Sea Kayaking Trip Comforts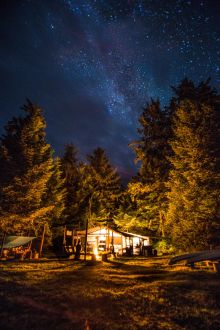 Appreciate the unique
coastal camping luxuries
of our Vancouver Island wilderness retreat.
Whether joining us for a base camp kayaking adventure or starting and ending your expedition kayak trip, you will enjoy:
spacious walk-in tents on scenic waterfront sites
thick mattresses and comfy pillows on wooden beds
dining and activity shelter with cozy wood stove
wholesome meals featuring local & fresh ingredients
propane-heated shower with ocean views
resource library and natural history collection
diverse fleet of single & double fiberglass kayaks
shore & water-based activity options for all weather
morning sunshine, evening light, stunning sunrises and sunsets
Of my 6 weeks in Canada seeing the best it had to offer, the 5 days on Spring Island take up 99.4% of my Canadian memory bank and 84% of my Canadian photo album. The profound beauty of the places WCE showed me will stay with me forever...
Jamie R., Tasmania, Australia
Individualized Ocean Kayaking Adventures
The perfect island...[with] abundant diversity...
John Kimantas,
Coast & Kayak Magazine
We offer choice and opportunity for incredible
Vancouver Island kayaking
adventures that meet a variety of needs and interests, whether:
…looking for a "once-in-a-lifetime" adventure vacation that you'll be tempted to repeat?
…new to kayaking and want a positive experience with supportive, flexible, and experienced guides?
…a more experienced paddler comfortable in a range of conditions and wanting to find new edges and really explore?
…travelling from afar with limited time and want a Signature Canadian Experience in the wilderness where all of the details are taken care of – transportation, gourmet meals, accommodation, top-notch equipment, professional guiding and seamless logistics?
…more local to Vancouver or Vancouver Island and curious about a world-class destination in your own backyard that few have ever heard about?
…trying to find a unique family or group vacation that's perfect for diverse interests and needs (ages, experiences, comforts, meals, activities,…)?
…a solo traveler or couple keen to meet and explore with others who share similar interests?
…passionate about wildlife and nature photography, painting, or writing and looking for peaceful inspiration in a new place?
…intrigued and drawn to learning more about the complex Aboriginal history, culture, and present day living on our diverse coastline?
…a nature-lover who could watch a sea otter all day long, or just float in your kayak looking at birds riding the same swell?